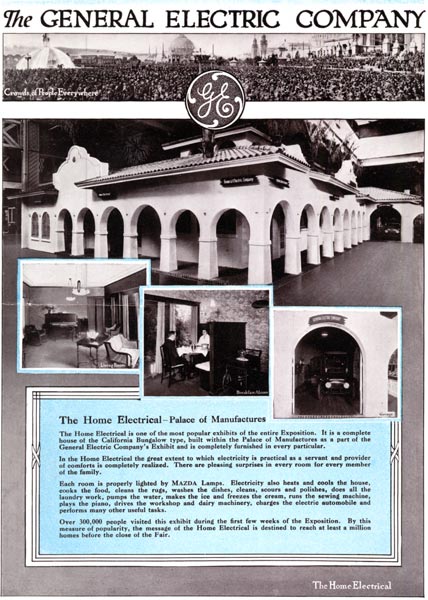 The Home Electrical Palace of Manufactures
The Home Electrical is one of the most popular exhibits of the entire Exposition. It is a complete house of the California Bungalow type, built within the Palace of Manufactures as a part of the General Electric Company's Exhibit and is completely furnished in every particular.
In the Home Electrical the great extent to which electricity is practical as a servant and provider of comforts is completely realized. There are pleasing surprises in every room for every member of the family.
Each room is properly lighted by Mazda Lamps. Electricity also heats and cools the house, cooks the food, cleans the rugs, washes the dishes, cleans, scours and polishes, does all the laundry work, pumps the water, makes the ice and freezes the cream, runs the sewing machine, plays the piano, drives the workshop and dairy machinery, charges the electric automobile and performs many other useful tasks.
Over 300,000 people visited this exhibit during the first few weeks of the Exposition. By this measure of popularity, the message of the Home Electrical is destined to reach at least a million homes before the close of the Fair.